Patron tickets
You can buy patron tickets directly online at GoOut.cz. The option of purchasing a patron ticket appears once you click open the ticket type menu under every show. Patron tickets can also be purchased at our box office where we can pack the ticket as a gift if you wish.
Patron tickets are also available in form of a gift voucher valid for 1 year. The recipient of the voucher can then choose shows they wish to see.
---
Become a patron by purchasing our patron ticket worth CZK 1 620.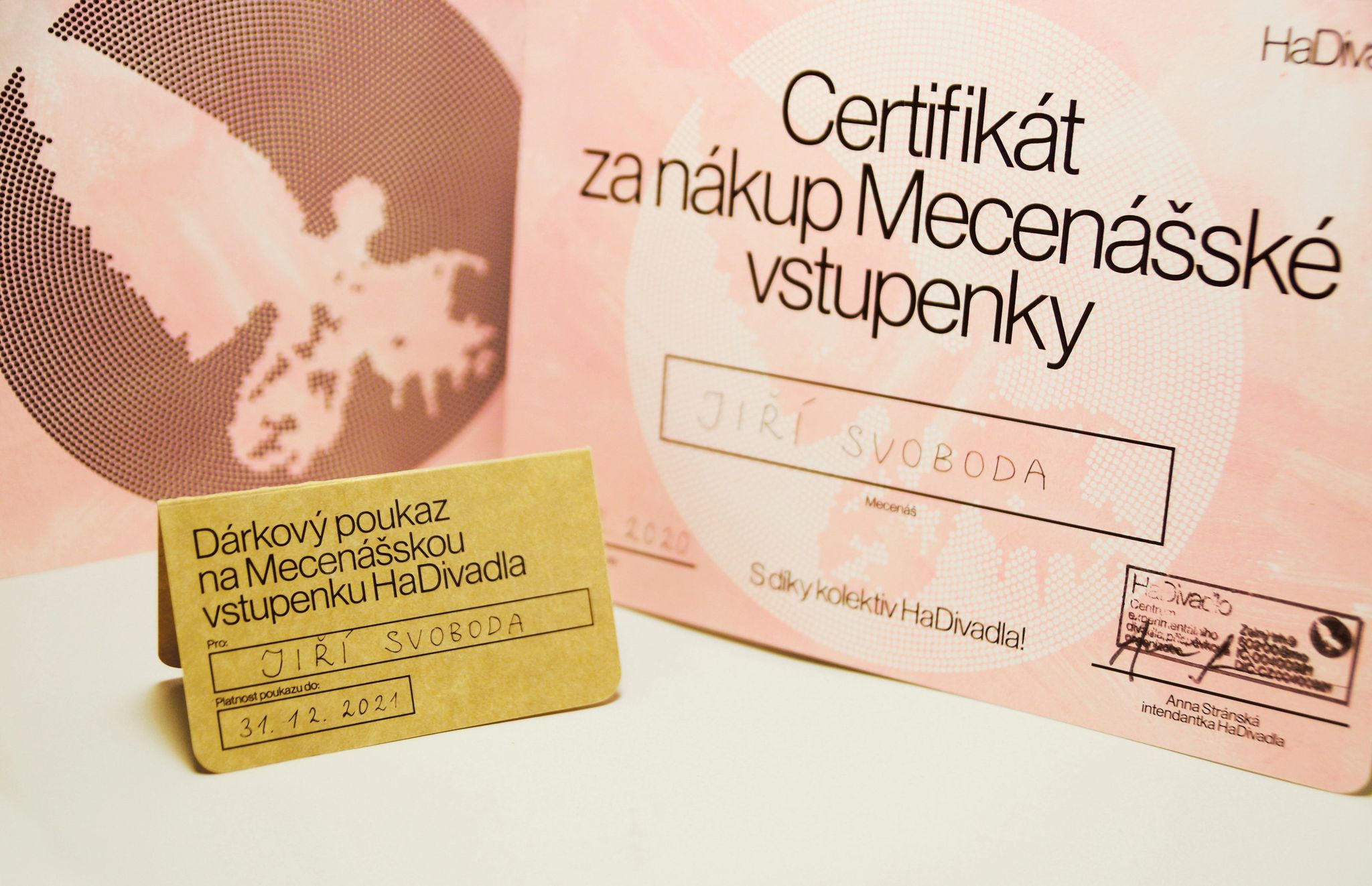 ---
We believe that a rich cultural offering is a sign of a developed society and is irreplaceable. In addition to that, it is important that cultural and other offerings are available for everyone. In today's world, we can quite accurately calculate the value of material things, but determining the value of non-material concepts is much more complicated.
Running a professional theatre requires sufficient resources to cover numerous costs. It requires not only financial resources for show production but also full engagement of the creative team, technical and service staff during every performance. Just like any other company or institution, a theatre must also pay for energy and other operating costs. Although we run our theatre using economic and low-cost solutions in all respects, it is impossible to cover all necessary costs using the founder's contribution and our own sales. For theatres like ours, where the main mission is "experimental theatre", it is extremely difficult to forecast sales. Even commercially-oriented theatres do not know until the last moment whether a show will be popular with audience members or not. Given the nature of our projects that seek without compromise to render true meaning of things and often contradict the marketing approach in which "offer satisfies demand", forecasting is even more difficult. But thanks to this "non-market" behaviour, our audience members have a special experience, unlike anything they can see in other theatres. Our theatre is a place for unique productions to be born and take place.
Just like living organisms, every "healthy" theatre needs to evolve, embark on more demanding projects, collaborate with interesting guests, get involved in international collaborations, use effective technologies etc. That, of course, goes hand in hand with higher needs for funding.
If we strictly followed the "market logic", prices of our tickets would be much higher than they are today in order to cover all above-mentioned costs. That would make our theatre unaffordable for most of our audience members. We calculated our real operating costs and measured them against our audience capacity. We established the average "real price" of our ticket (no "margin" included).The calculated price amounted to CZK 1 620.
The price of our patron ticket is the same!
---
Purchasing a patron ticket is the easiest way to really support HaDivadlo.
Patrons who enter their contact information while purchasing their patron ticket will be added to our special VIP list and will receive special offers from our theatre – priority invitations to new shows, special events, possibilities of theatre tours, meetings with the creative team etc.
Anyone can become a patron, the amount of support is not important. It is a matter of principle – to support something you consider important and useful as your financial situation allows you and not to expect anything in exchange for that. If more people have this approach, we believe it can only positively impact our society.
---
If you would like to support our theatre another way, please see here. On behalf of the entire HaDivadlo team, we would like to thank our existing partners and supporters for their generosity!